Thanksgiving Dance Weekend
For our 31st Dance Weekend, November 28-29, 2014,
Contra -:- English on Saturday -:- Dance Music Jams -:- Balfolk -:- Workshops -:- Contra
photo courtesy Kathryn Mae Photography
Featuring
Great Bear Trio
Andrew VanNorstrand, Noah VanNorstrand, Kim Yerton
Food for Thought
Daphne Kanack-Pickens and Casey Murray, with Donal Sheets
Rebecca, Rachel & Jane
with calling by:
Gaye Fifer
Sarah VanNorstrand
Sound by
Tony Hernandez
Contra -:- English on Saturday -:- Dance Music Jams -:- Balfolk -:- Workshops -:- Contra
Featured Performers
Great Bear Trio
As one of the hottest and most influential dance bands in the country, Great Bear Trio continues to push the boundaries and set the standard for modern contra dance music. The insanely talented multi-instrumentalist brothers Andrew and Noah are ably accompanied by their mother Kim on piano. Their driving rhythm, epic dynamics and uniquely rocking style have given them a loyal following of all ages. Great Bear Trio is Noah VanNorstrand, Kim Yerton, and Andrew VanNorstrand.
Gaye Fifer
Gaye Fifer is an accomplished contra caller from Pittsburgh, PA. Her delightful personality makes everyone happy to be dancing, and her clear and charming explanations makes it easy. An active dancer herself, Gaye understands the subtleties of making contra dances particularly satisfying for dancers. She is involved with both the contra and English dance communities in Pittsburgh. In addition, Gaye has been calling both locally and around the country at contra weekends. She is known for her energy, enthusiasm and sense of fun. She is also an enthusiastic advocate and instructor of the contra-style waltz.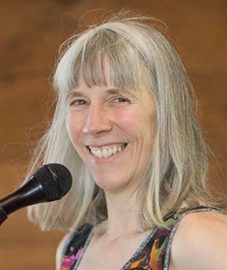 More Contra Performers
Food for Thought
Fresh on the scene from Rochester, Food for Thought is a hot, young combination of soaring fiddle, resonant cello and driving guitar.
Food for Thought is Daphne Kanack-Pickens on fiddle and Casey Murray on cello and guitar. Joining them for the weekend is Donal Sheets, trading off on cello and guitar.
Rebecca, Rachel & Jane
Good friends who have played out in some of our favorite bands, and jammed together for years, Rebecca, Rachel & Jane embody great taste in music and a deep instinct for dance. Endlessly versatile, their range of styles always delights. Rebecca McCallum plays with The Groovemongers and Riverbend. Rachel Bell plays with Tunescape, Frivolity, and Montage. Jane Knoeck plays with The Groovemongers, Montage, and Frivolity. As our treasurer says, "Any band that has Rebecca, Rachel or Jane in it is bound to be good.".
Sarah VanNorstrand
Manlius-based caller Sarah VanNorstrand has been leading contras and community dances in the Finger Lakes region and beyond for more than 20 years. She's known for her clear teaching style and for her large repertoire of fun and flowing dances. Katy brings impeccable taste to the selection of just the right dance for the moment. Her transparent style brings the music to the fore. The result is dance joy.
Sound Tech
Tony Hernandez
Tony is a full-time traveling sound engineer with over a dozen years of experience all around the country. He specializes in sound for acoustic music for dances, providing a high degree of intelligibility and acoustic clarity. Tony combines an in-depth understanding of the physics of sound production with a deep love and appreciation for music and the people who make it.
We love Tony. First because he's just a great guy. He's also just the best dance sound engineer there is. He'll make sure the bands sound their best, the callers are clearly audible, and everyone is happy.
Details!
Weekend Schedule Highlights
Contra Dancing Friday & Saturday evening, starting at 8:00 PM.
English Dancing Saturday morning and afternoon.
More Contra Dancing on Saturday during the day.
Dance Music Jamming all day Saturday, open to all.  Bring your instrument, take a load off your feet, and jam!   Teach and learn dance tunes together.
Fabulous buffet lunch included with Saturday admission.
The "Dinner Adventure" provides a fun way to organize for dining at nearby restaurants on Saturday.
We have last year's schedule .  But you know, it will change to take fullest advantage of this year's great talent.  We know you'll have fun whatever you do!
Prices
Pricing:

Register in advance to pick up your ticket in the express line and get on the floor faster.
Full weekend, Prepay
$55.00
Yes!  You can register for the dance online.  Our spacious dance floor has plenty of room.  Just use the Pay Now button at right.

Pricing at the door:

Regular
Student w/ID
Please note: we can only accept cash or check at the door.
Full weekend
$65.00
$55.00
Friday evening (8-11 PM)
$20.00
$15.00
Saturday evening (8-11 PM)
$20.00
$15.00
Saturday (9-5) (includes lunch)
$30.00
$35.00
Where to Stay:
We plan to reserve a block of rooms at anearby hotel. It's a convenient 8 minute walk from the dance.  Of course, you may find other fine hotels in the area with standard tools.
There is a limited amount of home hospitality available.  Many of our usual hosts are full up with family for this time.  You may contact our housing coordinator to place a request.
How to get to the dance:
The dance is held at Salem United Church of Christ, 60 Bittner Street, Rochester, NY 14604. We have a map and directions to the dance.
Pictures:
Click here for pictures of the 2008 Thanksgiving Weekend, taken by Jeff Folkins. We have so much fun dancing, we don't take very many pictures.
For more information, contact us by email.
See you on the dance floor!