Thanksgiving Dance Weekend
For our 33rd Dance Weekend, November 25-26, 2016,
Contra -:- English -:- Dance Music Jams -:- Fun Times -:- Contra
photo courtesy Kathryn Mae Photography
Featuring
Pete's Posse
Pete Sutherland, Tristan Henderson, and Oliver Scanlon
Tempest
Chuck Abell, Tim Ball, Eric Metzgar, Harry Aceto, Brendan Lanighan, Erik Stabnau
with calling by:
Mary Wesley
David Smukler
Sound by
Tony Hernandez
Contra -:- English -:- Dance Music Jams -:- Fun Times -:- Contra
Featured Performers
Pete's Posse
Twin fiddles in tight, wild harmony over high-powered guitar and pounding footwork with mandolin, clawhammer banjo, jawharp and rocking keyboards adding their voices to the mix. Songs and tunes, old and new, lyrical and driving: that's the multi-generational heart and mind of PETE'S POSSE. Join acclaimed musician Pete Sutherland (fiddle, piano, banjo, melodica and vocals), his talented protégé Oliver Scanlon (fiddle, viola, mandolin, foot percussion and vocals) and the uber-dynamic Tristan Henderson (guitars, mandolin, jaw harp, foot percussion and vocals) for great dancing.
Mary Wesley
MARY WESLEY is a dance leader, caller, and organizer for contras, squares, morris, and family and community dances. A native of Vermont, she travels throughout New England and beyond to follow and share her love of dance. Whether at a scheduled dance, a school event, a wedding, a festival or a private party, Mary's friendly enthusiasm is sure to please..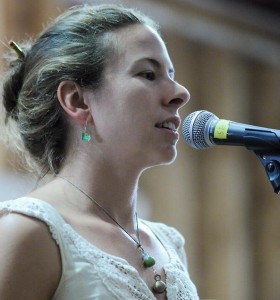 More Contra Performers
Tempest
We'll have jazzy, rockin' contras and Extreme English with Americana band TEMPEST. Leader CHUCK ABELL on guitar has assembled an outstanding set of musicians: TIM BALL on fiddle, HARRY ACETO on Bass, BRENDAN LANIGHAN on trombone, ERIC METZGAR on drum kit, and ERIK STABNAU on Sax. Representing a wide range of experience, they draw deep from the well of American music to create a powerful dance experience.
David Smukler
Syracuse-based caller DAVID SMUKLER is the dean of Western New York callers. Accessible and erudite, modern and ancient, he'll give us a great time.  Among other sessions, David and Tempest will reprise the exciting Extreme English session that met with acclaim last summer.
Rebecca McCallum
Mild mannered music librarian by day, REBECCA McCALLUM delights dancers off hours with her sensitive, or energetic, as needed interpretations of all our favorite tunes. Rebecca plays with the Groovemongers and Riverbend. We are delighted to have her back to Rochester for a visit.
Food For Thought
Youthful Exuberance with a wonderful Trio of Casey Murray on cello, Daphne Pickens on fiddle, and Donal Sheets on guitar.
Sound Tech
Tony Hernandez
TONY HERNANDEZ is a full-time traveling sound engineer with over a dozen years of experience all around the country. He specializes in sound for acoustic music for dances, providing a high degree of intelligibility and acoustic clarity. Tony combines an in-depth understanding of the physics of sound production with a deep love and appreciation for music and the people who make it.
We love Tony. First because he's just a great guy. He's also just the best dance sound engineer there is. He'll make sure the bands sound their best, the callers are clearly audible, and everyone is happy.
Details!
Weekend Schedule Highlights
Traditional Contra Dancing starts at 7:30 PM, Friday evening.
Wake-up Waltzes and Extreme English Country Dancing Saturday morning.
More Contra Dancing on Saturday during the day.
Saturday afternoon downstairs: "Squares with Flair" and "Hey There" contras.
Saturday afternoon upstairs: "Contra Callers Showcase" (complex contras), and Swing/Jazz/Blues Couples dances with Tempest.
The big Saturday evening Contra Dance at 7:30 PM.
Dance Music Jamming all day Saturday, open to all.  Bring your instrument, take a load off your feet, and jam!   Teach and learn dance tunes together.
Fabulous buffet lunch included with Saturday admission.
A fun way to organize for dining at nearby restaurants on Saturday.
We have our printable schedule.  We know you'll have fun whatever you do!
Weekend Pricing
Regular
Student w/ID
Full weekend, paid by November 13th
(includes Saturday lunch)
$60.00
$54.00
Full weekend at the door (includes Saturday lunch)
$70.00
$54.00
Friday evening at the door
$20.00
$16.00
Saturday evening at the door
$20.00
$16.00
Saturday workshops (9-5) at the door (includes lunch)
$35.00
$27.00
English Country dance special! Saturday morning only, at the door (includes lunch)
$20.00
$16.00
Swingin' afternoon special! Saturday afternoon only, at the door (includes lunch)
$20.00
$16.00

Regrets – the pre-registration discount is no longer available. However, you can still avoid the pre-dance line by purchasing weekend tickets in advance with our convenient PayPal registration form:

Or, you can print our paper pre-registration form and mail it to our Treasurer.
How to get to the dance:
The dance is held at Salem United Church of Christ, 60 Bittner Street, Rochester, NY 14604. We have a map and directions to the dance.
Pictures:
Chris Chin has some pictures from our 2014 weekend on Flickr. Jeff Folkins has pictures of the 2008 Thanksgiving Weekend.
For more information, contact us by email.
See you on the dance floor!